About DFW Airport Rental Return: if you are in the North Dallas area, to return your rental car you need to head back to a specific address at the DFW Airport:
Center Garage Dr and Passport Dr, Irving, TX 75062 (DFW Airport Rental Return)
You can follow the signs to DFW, but they will take you to the North entrance to the airport. You'll have to drive the length of the airport, another 6 miles South to get to the DFW Rental Car Center.  Last week, I was in Plano; from there, you take President George Bush Turnpike (PGBT) until it turns into 161, then exit onto Northgate Dr, and head West.
Save DFW Airport Rental Return address into your phone's Google Map

So if you have a chance, program the address above into your mobile phone's google map. Just telling google maps that you want to go to DFW is not good enough. For me, I've entered this address into Google Maps MyPlaces.
In Android Google Maps applications, the addresses in my MyPlaces are found under the Layers icon in the lower right of the screen (looks like three sheets of paper stacked). I click on MyPlace, then look for the location I saved. You probably already have your favorite way of saving location short cuts. This is just a suggestion.
You don't have to save anything.  You can use the microphone feature inside of Google Maps; I found that saying "Passport Dr Irving Texas" into the microphone inside of Google Maps works good, too.  You can just type this same phrase into Google Maps.  I like pre entering my travel destinations into my phone as part of my travel planning.,
Some additional addresses

Chevron Gas Station, 5075 West Northgate, Irving, TX 75062
- In my experience, this is the best gas station to stop at and refill your rental car. In fact, this might be the address you put in your Google Maps app while driving to the airport. Stop here, then continue for another 1.5 miles along Rental Car Drive to the Rental Return.
DFW Rental Car Center, 2424 East 38th Street, Irving, TX 75062
- This address is for the front entrance to the Rental Car building. To return your cars, you need to go to the back. This is the address on the airport website. It works, but it confused me.
I was driving during rush hour, the last two miles of 161 (PGBT) was backed up. It wasn't too bad, and it wouldn't change my advise.
Tracks from my GPS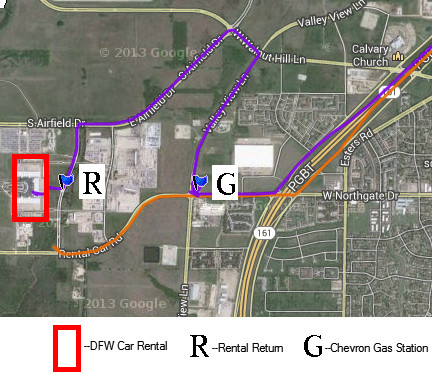 Above is a google map with tracks from my GPS device (I use a Garmin GPSMAP 60CSx).  The red box out lines the DFW Rental Car Center.  The orange line represents the track I followed to leave the airport; the purple line is my track back to the DFW Airport Rental Return. The flag labeled R is the rental car return entrance (Avis, Hertz).  The R location is the address I site at the beginning of this post.  The flag labeled G is the location of the Chevron Gas Station.  Many of us travelers have a money savings routine that includes one last stop at a gas station before returning the rental car.
Note: There's a divided highway on Valley View Lane.  If you need to leave the gas station from the West entrance, you'll have to take a right; it will take you a little out of the way, but you can circle back on S Airfield Dr.  See my GPS track in purple on the map above.
OT: DFW Airport Rental Center Public Art
Below are a few images from the beautiful lobby of the DFW Rental Car Center.  These are bronze statues of a cowboy and cattle.  It was striking enough for me to pause and take a couple of pictures.  It's bigger that it looks.