Background on my Nob Hill Walk:  I was in San Francisco on business.  My hotel and meetings were on Nob Hill.  On my first day of meetings, I did an early morning walk and a late evening Cable Car excursion, looping the city.  A beautiful day.
Nob Hill Walk – Down California, Cable Car Back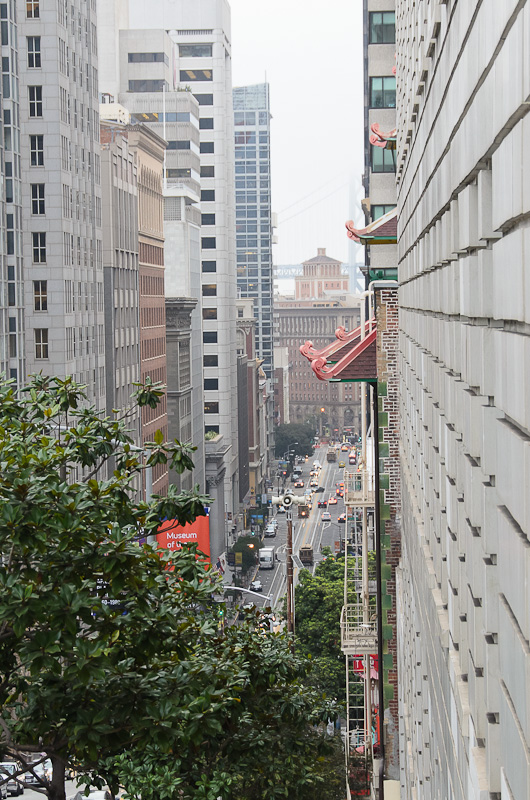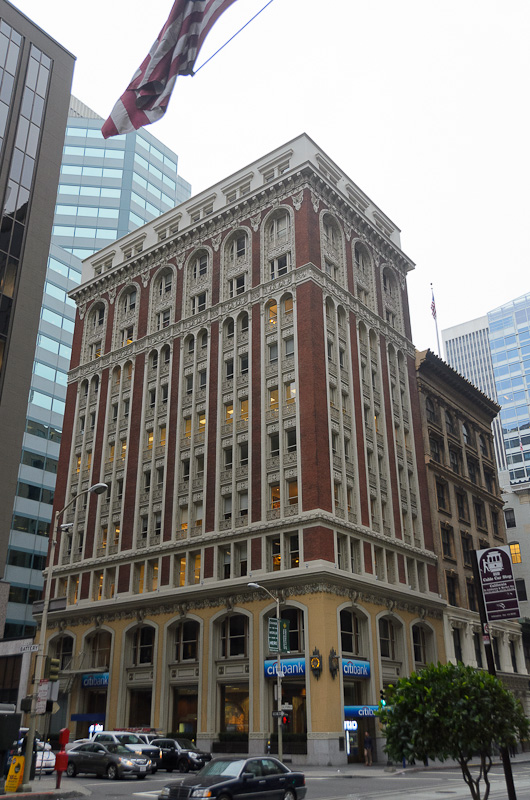 I was in San Francisco for business meetings. Early in the morning on the second day of my visit I decided to go for a walk from my hotel on Nob Hill heading East down California Street.  My walk ended at Market Street; from there, I caught the California Line Cable Car to take me back.
For this nice little walk, I walked past buildings mostly in the Financial District:  Transamerica Pyramid, 650 California Street / Hartford Building, Old St. Mary's Church, Omni San Francisco Hotel, Alvinza Hayward Building, Union Bank / Bank of California, and the terraced gardens of the 101 California Building.
The cable car terminus at California and Market/Drumm Streets was all torn up.  At first, I thought I couldn't board here because of the construction, but after awhile several people started queuing up so I knew this was still a good pick up point. The workers there were making sure that people were queuing for the cable car in a safe spot.
Heading back, I saw the Sing Fat Building, Mark Hopkins Hotel, Ritz-Carlton, Fairmont Hotel, and the Pacific-Union Club — Nob Hill is a nice place to visit!
Cable Car Ride: Union Square on Powell/Mason line to Embarcadero Streetcar South to California Line back to Nob Hill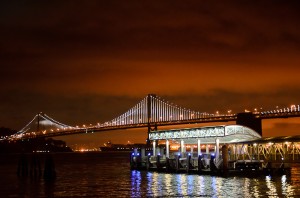 After a full day of meetings and dinner, I took a for-fun ride on the cable cars.
I started at Union Square, hopping on the Powell/Mason Cable car on Market Street heading North all the way up to Fisherman's Wharf.  I briefly walked around and then caught the Embarcadero Streetcar and road South along the F-Market & Wharves line to the Ferry Building at Market Street.
I walked around the area, took some pictures of the Bay Bridge, had dinner nearby then walked over to the California line cable car terminus.  I rode up Nob Hill, back to my hotel.
This is a fun loop; this is something I have always wanted to do.  The only really new segment for me was the Streetcar.  I rode in one of the decades old vintage street cars.  It was perfectly restored and had a very comfortable ride.  I shared it with about 15 other people.  I have seen the street cars before; they look really cool, but they aren't the same as the cable car… much more like a bus.
On the loop, I took pictures of some noteworthy sites:  "Hearts in San Francisco" and Dewey Monument in Union Square Park, Westin St Francis, Sam's Cable Car Lounge, Blue Mermaid bar in Fisherman's Wharf, Ferry Building Clock Tower, San Francisco–Oakland Bay Bridge, Gandhi Statue in the Golden Gate Ferry Terminal, Southern Pacific Building, Vaillancourt Fountain, and the The Pacific-Union Club, Grace Cathedral and the Mark Hopkins hotel on Nob Hill.
I bought a one day pass for the cable cars.  It came in handy for this trip, which otherwise would have cost 3 separate fares.  I did this at night, a little bit late.  This was mostly ok, because during the day it is alot more crowded.
Cable Car Loop: Union Square taking Powell/Mason line to Embarcadero Streetcar to California Line to Nob Hill at EveryTrail

EveryTrail – Find the best Walking Tours in San Francisco, California