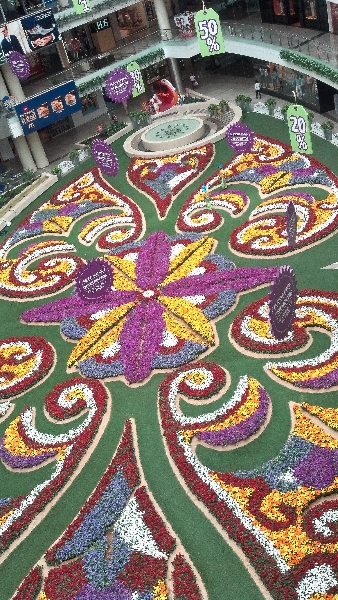 I was visiting Medellin, Colombia on business for a day of meetings.  The usual hotel near our offices was booked, so I stayed at the further away, but nicer InterContinental Hotel.  It turned out the week was a very busy one: Fashion Week Colombiamoda was ending and the Flower Festival / Feria de Las Flores was starting, so I was lucky to get a room.
My stay was very short and I had no time for tourist things.  So I took some pictures from my mobile phone while at the office and in a car.
The hotel is in the El Poblado area just off the Via Las Palmas highway. This is a major road that you follow to get to the airport. Just a short ways South on Via Las Palmas, there is a beautiful lookout point where you can see Medellin. My host took me here at night and it was breathtaking! It was a popular spot with lots of other people enjoying the view, too.
For reference, my cityscape photos were taken the Forum Skyscraper, 23rd floor.  The building is located right next to a popular shopping place called the Sante Fe Mall.  Both of these buildings are located in the La Aguacatala barrio of the El Poblado district of Medellin.  A very nice section of town mixed with residential and business.
Medellín sits in the Aburrá Valley surrounded by hills that make up a section of the Andes Mountains.  The city is at an elevation 5000ft; just North of the equator, the climate is beautiful — it never really gets too warm or too cold.  It was between 60 and 75 when I was there, and it was late in July.